T-Logics Standard Crediting System (SHR)
SHR (T-Logics Standard Crediting System) enables the setup and continuous tuning of business rules for credit application pre-filtering and the selection of the right financial products in a safe and transparent way, without IT development!
What is the credit risk we can still tolerate? Are we able to change the risk rules in a flexible way, and implement the changes quickly and securely enough?

Are we checking the credit requester's risk rating often enough? Is there a possibility for fine-tuning the category boundaries or for a flexible exception handling?

What credit products can fulfill the credit requester's requirements, if a product cannot be approved, what is the exact reason for rejection?

Can we change our products or introduce new products quickly enough?

Can we perform all these changes precisely, verifiably, quickly and at a low cost, i.e. in a competitive way?
---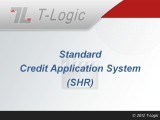 Click here, open the video gallery, watch the presentations and see the system in action!




---